Herbert Džordž Vels (H.G.Wells) By: MasterYoda Date: 29.05.2007. 23:02:57
Herbert Džordž Vels (Herbert George Wells)
Autor: MasterYoda, Vektor br. 3
Herbert Džordž Vels (Herbert George Wells) (1866 –1946), engleski pisac, najpoznatiji kao autor velikog broja naučno-fantastičnih radova, iako se ogledao i u mnogim drugim žanrovima, posebno u poznom periodu stvaralaštva. Gernsbek, Vern i Vels ponekad se proglašavaju "očevima naučne fantastike."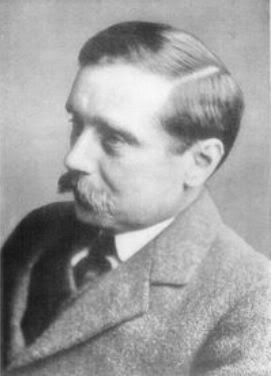 Rodio se u Bromliju, Kent, u porodici niže-srednjeg staleža. Kao sedmogodišnji dječak slomio je nogu i, da bi nekako utukao vrijeme, počeo je da čita. Studije na akademiji Thomas Morley prekinuo je 1877. jer porodica nije mogla da plaća skupu školarinu nakon teške povrede njegovog oca koja je prekinula njegovu karijeru igrača kriketa. Pokušao je da se zaposli kao pripravnik u raznim profesijama ali nigdje nije imao uspijeha.
Konačno, 1883. postaje asistent profesora u jednoj školi i tu radi sve dok se, zahvaljujući dobijenoj stipendiji, nije upisao u "Školu nauka", danas "Kraljevski koledž" u Londonu. Kao pitomac, pomogao je u osnivanju Kraljevske akademije nauka i postao njen prvi predsjednik.
Iz tri braka ima dva sina, a iz mnoštva vanbračnih veza još nekoliko djece. "Nisam nikada bio mnogo amoralan," napisao je Vels, "samo sam veoma mnogo volio više žena."
Književni rad
Velsovi prvi romani, zvani "naučna romantika" žanrovski su najbliži pravoj naučnoj fantastici, odnosno onome što danas smatramo naučnom fantastikom. Predstavili su čitaocima cijeli niz tema koje će kasnije postati klasične teme naučne fantastike.
Vjerovatno najpoznatije Velsovo djelo ujedno je i prvi njegov objavljeni roman "Vremeplov" (The Time Machine), objavljen 1895. Vrijeme kao četvrta dimenzija (što će kasnije tvrditi i Albert Ajnštajn) i smjele pretpostavke o društvenim uređenjima u dalekoj budućnosti osnovne su karakteristike ovog djela.
Sledeće godine izlazi roman "Ostrvo doktora Moroa" (The Island of Dr. Moreau), priču o naučniku Morou koji svojim eksperimentalnim tehnikama od životinja pokušava stvoriti inteligentna bića nalik ljudima. I ovdje srećemo motiv "ako može, nešto će krenuti naopako", koji smo sreli i u romanu "Frankenštajn" od Meri Šeli. Kasnije će ovo postati poznato kao Marfijev zakon.
U idućih nekoliko godina Vels redom objavljuje romane "Crvena soba" (The Red Room), "Točkovi sreće" (The Weels of Chance), "Nevidljivi čovjek" (The Invisible
Man) i "Rat svjetova" (The War of the Worlds), po temama sve sami klasici naučne fantastike.
Velsov prvi bestseler je roman "Predviđanja" (Anticipations) (1901). Predviđajući kako će svijet izgledati godine 2000, zanimljiva je zbog niza dobrih predviđanja (vozovi i automobili dovode do seobe stanovništva iz velikih gradova u predgrađa, velike seksualne slobode, slom njemačkog militarizma i osnivanje evropske unije) kao i promašaja (nije očekivao značajniju upotrebu avijacije prije 1950, kao i tvrdnja da podmornice neće služiti ničemu osim davljenju njihove posade i graditelja u moru).
Napisao je i nekoliko desetina novela i kratkih priča, od kojih je svakako najpoznatija "Zemlja slijepih" (The Country of the Blind) (1904).
Roman "The World Set Free" (1914) donosi još jedno njegovo veliko predviđanje. U tom romanu on se pita da li je moguće ubrzati radioaktivni raspad urana tako da se, umjesto stotinama godina, sve desi u mnogo kraćem periodu, i posljedicama koje bi ovako nešto donijelo svijetu. Trideset godina kasnije svijet će se sresti s pojmovima kao što su lančana reakcija i atomska bomba. Pogriješio je samo u jednom: njegova bomba nije eksplodirala u djeliću sekunde nego je nastavljala kontinuiranu eksploziju koja je trajala cijeli dan.
Napisao je i veći broj utopijskih romana (In the Days of the Comet, The Shape of Things to Come, The Autocracy of Mr Parham, The Holy Terror) kao i antiutopijski When the Sleeper Wakes.
Napisao je (pogotovo u poznijoj fazi) i veći broj radova koji ne pripadaju žanru naučne fantastike, u kojima se bavio raznim društvenim, socijalnim i istorijskim temama.
Poznat je i kao autor prve ratne igre na tabli, Floor Games (1911) iza koje je slijedila Little Wars (1913).
Po političkom ubjeđenju socijalista ali i anti-Marksist, pozdravio je Lenjinove planove za reformu Rusije ali se i razočarao u Staljinovo vođenje te države.
Pomogao je u stvaranju Lige naroda ali bio razočaran njenim neuspjehom u sprječavanju Drugog svjetskog rata. U svojoj poslednjoj knjizi, Mind at the End of its Tether (1945) zaključuje da ideja da se čovječanstvo zamijeni nekom drugom vrstom i nije tako loša.
U njegovu čast jedan krater na tamnoj strani Mjeseca dobio je ime H.G. Wells.
Neka od djela objavljenih na našem jeziku:
Vremeplov (izdavač Čarobna knjiga)
Nevidljivi čovek (prvi put objavljena u ranim brojevima Politikinog Zabavnika)
Rat svetova (1981, u izdanju Prosvete, edicija Plava ptica)
Istorija sveta (izdavač Evro; fototip originalnog izdanja iz 1929)
Vrata u zidu (zbirka priča, izdavač je Solaris)
Korisni linkovi
Vels u Wikipediji
Biografija i djelimična bibliografija
Filmovi po njegovim romanima
Knjige u projektu Gutenberg
Veći broj romana i priča
---
Odg: Herbert Džordž Vels (H.G.Wells) By: svetlost lutalica Date: 18.12.2009. 00:17:31
Bibliografija
Romani
The Time Machine (1895)
The Wonderful Visit (1895)
The Island of Doctor Moreau (1896)
The Wheels of Chance (1896)
The Invisible Man (1897)
The War of the Worlds (1898)
Love and Mr Lewisham (1899)
When the Sleeper Awakes (1899)
The First Men in the Moon (1901)
The Sea Lady (1902)
The Food of the Gods and How It Came to Earth (1904)
Kipps (1905)
In the Days of the Comet (1906)
The War in the Air (1908)
Ann Veronica (1909)
Tono-Bungay (1909)
The History of Mr. Polly (1910)
The Sleeper Awakes (1910) – revidirano izdanje When the Sleeper Awakes (1899)
The New Machiavelli (1911)
Marriage (1912)
The Passionate Friends (1913)
The Wife of Sir Isaac Harman (1914)
The World Set Free (1914)
Bealby: A Holiday (1915)
The Research Magnificent (aka The Magnificient Research) (1915)
Mr Britling Sees it Through (1916)
The Soul of a Bishop (1917)
Joan and Peter: A Story of an Education (1918)
The Undying Fire (1919)
The Secret Places of the Heart (1922)
Washington and the Hope of Peace (1922)
Men Like Gods (1923)
The Dream (1924)
Christina Alberta's Father (1925)
The World of William Clissold (1926)
Meanwhile (1927)
Mr Blettsworthy on Rampole Island (1928)
The King Who Was a King (1929)
The Treasure in the Forest (1929)
The Autocracy of Mr Parham (1930)
The Bulpington of Blup (1932)
The Shape of Things to Come (1933)
The Croquet Player (1936)
Apropos of Dolores (1937)
Brynhild (1937)
Star Begotten (1937)
The Camford Visitation (1937)
The Brothers (1938)
The Holy Terror (1939)
All Aboard for Ararat (1940)
Babes in the Darkling Wood (1940)
You Can't Be Too Careful (1941)
Kratke priče
"A Family Elopement" (1884)
"A Tale of the Twentieth Century" (1887)
"A Talk with Gryllotalpa" (1887) – pod pseudonimom Septimus Browne
"A Vision of the Past" (1887)
"The Chronic Argonauts" (1888)
"The Devotee of Art" (1888)
"The Flying Man" (aka "The Advent of the Flying Man") (1893)
"The Man of the Year Million" (1893)
"Æpyornis Island" (1894)
"A Deal in Ostriches" (1894)
"The Diamond Maker" (1894)
"The Final Men" (1894)
"The Flowering of the Strange Orchid" (aka "The Strange Orchid") (1894)
"The Hammerpond Park Burglary" (1894)
"The Lord of the Dynamos" (1894)
"How Gabriel Became Thompson" (1894)
"In the Avu Observatory" (1894)
"In the Modern Vein: An Unsympathetic Love Story" (aka "A Bardlet's Romance") (1894)
"The Jilting of Jane" (1894)
"The Lord of the Dynamos" (1894)
"The Man With a Nose" (1894)
"A Misunderstood Artist" (1894)
"The Stolen Bacillus" (1894)
"The Thing in No. 7" (1894)
"Through a Window" (aka "At a Window") (1894)
"The Thumbmark" (1894)
"The Treasure in the Forest" (1894)
"The Triumphs of a Taxidermist" (1894)
"The Argonauts of the Air" (1895)
"A Catastrophe" (1895)
"The Cone" (1895)
"How Pingwell Was Routed" (1895)
"Le Mari Terrible" (1895)
"The Moth" (aka "A Moth - Genus Novo") (1895)
"Our Little Neighbour" (1895)
"Pollock and the Porroh Man" (1895)
"The Reconciliation" (aka "The Bulla") (1895)
"The Remarkable Case of Davidson's Eyes" (aka "The Story of Davidson's Eyes") (1895)
"The Temptation of Harringay" (1895)
"Wayde's Essence" (1895)
"The Apple" (1896)
"In the Abyss" (1896)
"The Plattner Story" (1896)
"The Purple Pileus" (1896)
"The Rajah's Treasure" (1896)
"The Red Room" (1896)
"The Sea Raiders" (1896)
"A Slip Under the Microscope" (1896)
"The Story of the Late Mr Elvesham" (1896)
"Under the Knife" (aka "Slip Under the Knife") (1896)
"The Crystal Egg" (1897)
"Le Mari Terrible" (1897)
"The Ghost of Fear" (1897)
"The Lost Inheritance" (1897)
"Mr Marshall's Doppelganger" (1897)
"A Perfect Gentleman on Wheels" (1897)
"The Presence by the Fire" (1897)
"The Star" (1897)
"A Story of the Days To Come" (1897)
"A Story of the Stone Age" (aka "Stories of the Stone Age") (1897)
"Jimmy Goggles the God" (1898)
"The Man Who Could Work Miracles" (1898)
"Miss Winchelsea's Heart" (1898)
"Mr Ledbetter's Vacation" (1898)
"The Stolen Body" (1898)
"Walcote" (1898)
"Mr Brisher's Treasure" (1899)
"A Vision of Judgment" (1899)
"A Dream of Armageddon" (1901)
"Filmer" (1901)
"Mr Skelmersdale in Fairyland" (1901)
"The New Accelerator" (1901)
"The Inexperienced Ghost" (aka "The Story of the Inexperienced Ghost") (1902)
"The Loyalty of Esau Common" (1902)
"The Land Ironclads" (1903)
"Mr. Skelmersdale in Fairyland" (1903)
"The Magic Shop" (1903)
"The Truth About Pyecraft" (1903)
"The Valley of the Spiders" (1903)
"The Country of the Blind" (1904)
"The Empire of the Ants" (1905)
"The Door in the Wall" (1906)
"The Beautiful Suit" (aka "A Moonlight Fable") (1909)
"Little Mother Up the Morderberg" (1910)
"My First Aeroplane" (1910)
"The Obliterated Man" (1911)
"The Sad Story of a Dramatic Critic" (1915)
"The Story of the Last Trump" (1915)
"The Wild Asses of the Devil" (1915)
"Peter Learns Arithmetic" (1918)
"The Grisly Folk" (1921)
"The Pearl of Love" (1924)
"When the Sleeper Wakes" (1928)
"The Queer Story of Brownlow's Newspaper" (1932)
"Answer to Prayer" (1937)
"The Country of the Blind (revised)" (1939)
Zbirke priča
The Stolen Bacillus and Other Incidents (1895)
Select Conversations With an Uncle (now extinct) (1895)
The Red Room (1896)
Thirty Strange Stories (1897)
The Plattner Story and Others (1897)
Tales of Space and Time (1899)
A Cure For Love (1899)
Twelve Stories and a Dream (1903)
The Country of the Blind and Other Stories (1911)
The Door in the Wall and Other Stories (1911)
The Star (1913)
Boon, The Mind of the Race, The Wild Asses of the Devil, and The Last Trump (1915) – prvo izdanje pod pseudonimom Reginald Bliss
Tales of the Unexpected (1922)
Tales of Wonder (1923)
Tales of Life and Adventure (1923)
The Empire of the Ants and Other Stories (1925)
The Short Stories of H. G. Wells (1927)
Selected Short Stories (1927)
The Adventures of Tommy (1929)
The Valley of Spiders (1930)
The Stolen Body and Other Tales of the Unexpected (1931)
The Famous Short Stories of H. G. Wells (aka The Favorite Short Stories of H. G. Wells) (1937)
Short Stories by H. G. Wells (1940)
The Inexperienced Ghost (1943)
The Land Ironclads (1943)
The New Accelerator (1943)
The Truth About Pyecraft and Other Short Stories (1943)
Twenty-Eight Science Fiction Stories (1952)
Seven Stories (1953)
Three Prophetic Science Fiction Novels of H. G. Wells (1960)
The Cone (1965)
Best Science Fiction Stories of H. G. Wells (1966)
The Complete Short Stories of H. G. Wells (1966)
The Man with the Nose and Other Uncollected Stories of H. G. Wells (1984)
The Red Room and Other Stories (1998)
Selected Stories of H. G. Wells (2004)
Filmske scenografije
Things to Come (1935)
The Man Who Could Work Miracles (1936)
The New Faust (1936)
Ne SF djela
Honours Physiography (1893) – with R. A. Gregory
Text-Book of Biology/Zoology (1893)
Certain Personal Matters (1898)
Anticipations of the Reactions of Mechanical and Scientific Progress upon Human Life and Thought (1901)
Anticipations (1901)
Mankind in the Making (1903)
A Modern Utopia (1905)
The Future in America (1906)
This Misery of Boots (1907)
Will Socialism Destroy the Home? (1907)
First and Last Things (1908)
Floor Games (1911)
The Great State (1912)
Great Thoughts From H. G. Wells (1912)
Thoughts From H. G. Wells (1912)
Little Wars (1913)
New Worlds for Old (1913)
The War That Will End War (1914)
An Englishman Looks at the World (1914)
The War and Socialism (1915)
What is Coming? (1916)
God the Invisible King (1917)
War and the Future (aka Italy, France and Britain at War) (1917)
Introduction to Nocturne (1917)
In the Fourth Year (1918)
The Idea of a League of Nations (1919) – with Viscount Edward Grey, Lionel Curtis, William Archer, H. Wickham Steed, A. E. Zimmern, J. A. Spender, Viscount Bryce and Gilbert Murray
The Way to the League of Nations (1919) – with Viscount Edward Grey, Lionel Curtis, William Archer, H. Wickham Steed, A. E. Zimmern, J. A. Spender, Viscount Bryce and Gilbert Murray
The Outline of History (1920)
Russia in the Shadows (1920)
Frank Swinnerton (1920) – with Arnold Bennett, Grant Overton
The Salvaging of Civilization (1921)
A Short History of the World (1922)
Washington and the Hope of Peace (aka "Washington and the Riddle of Peace") (1922)
Socialism and the Scientific Motive (1923)
The Story of a Great Schoolmaster (1924)
A Year of Prophesying (1925)
A Short History of Mankind (1925)
Wells' Social Anticipations (1927)
The Way the World is Going (1928)
The Book of Catherine Wells (1928)
The Open Conspiracy (aka What Are We To Do With Our Lives?) (1928)
The Science of Life (1930) – with Julian S. Huxley, G. P. Wells
Divorce as I See It (1930)
Points of View (1930)
The Work, Wealth and Happiness of Mankind (1931)
The New Russia (1931)
Selections From the Early Prose Works of H. G. Wells (1931)
After Democracy (1932)
An Experiment in Autobiography (1934)
The New America: The New World (1935)
The Anatomy of Frustration (1936)
World Brain (1938)
The Fate of Homo Sapiens (aka The Fate Of Man) (1939)
The New World Order (1939)
Travels of a Republican Radical in Search of Hot Water (1939)
The Common Sense of War and Peace (1940)
The Rights of Man (1940)
The Pocket History of the World (1941)
Guide to the New World (1941)
The Outlook for Homo Sapiens (1942)
The Conquest of Time (1942)
Modern Russian and English Revolutionaries (1942) – with Lev Uspensky
Phoenix: A Summary of the Inescapable Conditions of World Reorganization (1942)
Crux Ansata: An Indictment of the Roman Catholic Church (1943)
'42 to '44: A Contemporary Memoir (1944)
Reshaping Man's Heritage (1944) – with J. B. S. Haldane, Julian S. Huxley
The Happy Turning (1945)
Mind at the End of its Tether (1945)
Marxism vs Liberalism (1945) – with J. V. Stalin
Članci i eseji
"Zoological Retrogression" (1891)
"The Rediscovery of the Unique" (1891)
"Ancient Experiments in Co-Operation" (1892)
"On Extinction" (1893)
"The Sun God and the Holy Stars" (1894)
"Province of Pain" (1894)
"Life in the Abyss" (1894)
"Another Basis for Life" (1894)
"The Rate of Change in Species" (1894)
"The Biological Problem of To-day" (1894)
"The 'Cyclic' Delusion" (1894)
"Flat Earth Again" (1894)
"Bio-Optimism" (1895)
"Bye-Products in Evolution" (1895)
"Death" (1895)
"The Duration of Life" (1895)
"The Visibility of Change in the Moon" (1895)
"The Limits of Individual Plasticity" (1895)
"Human Evolution, an Artificial Process" (1896)
"Intelligence on Mars" (1896)
"Concerning Skeletons" (1896)
"The Possible Individuality of Atoms" (1896)
"Morals and Civilisation" (1897)
"On Comparative Theology" (1898)
"The Grisly Folk" (1921)
"The Red Dust a Fact!" (1927)
"Fortelling the Future" (1938)
---