Džek Vilijemson (Jack Williamson) By: MasterYoda Date: 24.04.2007. 14:47:03
Džon Stjuart Vilijemson (John Stewart Williamson)
Autor: MasterYoda, Vektor br. 2

Džon Stjuart Vilijamson (John Stewart Williamson) poznatiji kao Džek Vilijamson (
Jack Williamson
) (29.april 1908- 10.novembar 2006) je američki pisac naučne fantastike.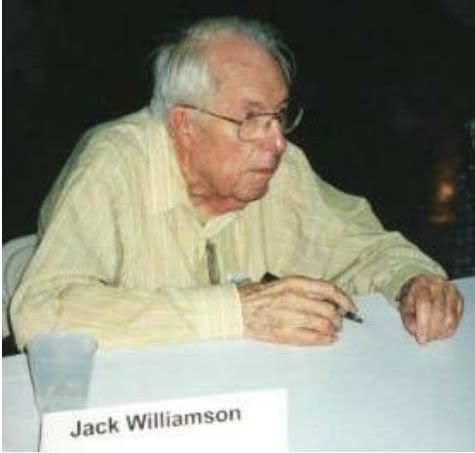 Od mnogih se smatra ocem i djedom naučne fantastike i dekanom žanra, sve u jednom. Jedan od osnivača Američkog udruženja pisaca naučne fantastike (SFWA – Science Fiction and Fantasy Writers of America) i dobitnik Grand Master nagrade tog udruženja 1976. Bio je i predsednik SFWA 1978-1980. Dobio je toliko nagrada da bi ih bilo teško sve nabrojati. Njegov autobiografski
"Wonder's Child: My Life in Science Fiction"
dobio je nagradu Hugo 1985.
The Oxford English Dictionary navodi Vilijamsona kao autora termina
genetski inžinjering
(u Dragon's Island) i
teraformiranje
(u Seetee Ship).
Biografija
Rođen je 29.4.1908. u Arizoni, kao dijete stočarske porodice koja se, u potrazi za boljom ispašom, često selila. Skrasili su se u Novom Meksiku, gdje se i danas nalazi njihova farma.
Rano je otkrio Amazing Stories i već kao dvadesetogodišnjak napisao i poslao svoju prvu priču, Metalni čovjek. Priča je objavljena u decembarskom broju časopisa.
Pod Brojerovim (Miles J. Breuer) tutorstvom udaljio se od svojih početnih interesovanja, fantazije, i priklonio mnogo čvršćem stilu. Tridesetih godina dvadesetog vijeka, kada se pojavio Asimov s svojim prvim radovima, Vilijamson je već bio poznato ime u žanru. Ipak, i dalje objavljuje u jeftinim, tzv. pulp magazinima sve dok, godinama kasnije, ne doživi puni finansijski uspijeh.
Sredinom sedamdesetih dobio je Grand Master priznanje SFWA, kao drugi dobitnik u istoriji (prvi je bio Robert Hajnlajn).
Pisao je i u poznim godinama pa je u poslednjoj deceniji života dobitnik i Hugo i Nebula nagrada, kao najstariji dobitnik uopšte. U dubokoj starosti, 2005. godine, objavio je roman "The Stonehenge Gate".
Umro je novembra 2006 u 99-oj godini života.
---
Odg: Džek Vilijemson (Jack Williamson) By: svetlost lutalica Date: 18.12.2009. 00:57:16
Ovaj autor je u svojoj izuzetno dugoj i plodnoj karijeri stvorio toliko raznovrsnih djela da se njegova bibliografija snažno opire pokušajima klasifikacije u standardne šeme romani-priče-kratke priče itd. Zbog toga sam ovdje prvo naveo, po godinama nastanka, njegove SF romane ali sam, kad se radi o serijalima, odstupio od tog redoslijeda. Uz serijale sam osim romana naveo i priče koje pripadaju tim serijalima, iako su te priče i kasnije ponovo navedene u spisku priča.
Romani
The Alien Intelligence, (1929)
The Birth of a New Republic (1930) (sa Miles J. Breuer)
The Girl from Mars, (1930) (sa Miles J. Breuer)
The Green Girl, (1930)
The Stone from the Green Star, (1931)
Golden Blood, (1933)
Legion of Space Serijal:

The Legion of Space, (1934)
The Cometeers, (1936)
One Against the Legion, (1939)
Three from the Legion, (Omnibus) (1980)
The Queen of the Legion, (1982)

Xandulu, (1934)
The Blue Spot, (1935)
The Ruler of Fate, (1936)
Islands of the Sun, (1935)
Dreadful Sleep, (1938)
Legion of Time Serijal:

The Legion of Time, (1938)
After World's End, (1939)

The Fortress of Utopia, (1939)
Realm of Wizardry, (1940)
Humanoids Serijal:

With Folded Hands, (1947)
The Humanoids, (1949)
Jamboree, (1969)
The Humanoids / With Folded Hands (Omnibus) (2002)
The Humanoid Touch, (1980)

Darker Than You Think, (1948)
Seetee

Collision Orbit (1942)
Minus Sign (1942)
Opposite – React! (1943)
Seetee Shock (1949)
Seetee Ship (1950)
Seetee Ship/Seetee Shock (1971)

Dragon's Island (aka The Not-Men), 1951
Undersea Trilogija (sa Frederik Pohl):

Undersea Quest (1954)
Undersea Fleet (1956)
Undersea City (1958)
The Undersea Trilogy (1992)

Star Bridge, (1955) (sa James E Gunn)
The Dome Around America (aka Gateway to Paradise), (1955)
Wolves of Darkness, (1958)
The Trial of Terra, (1962)
The Reign of Wizardry, 1964
Starchild Trilogija (sa Frederik Pohl):

The Reefs of Space (1964)
Starchild (1965)
Rogue Star (1969)
The Starchild Trilogy (1977)

Bright New Universe, (1967)
Trapped in Space, (1968)
Jamboree, (1969)
The Moon Children, (1972)
The Org's Egg (1974) (sa Frederik Pohl)
The Power of Blackness, (1976)
Saga of Cuckoo (sa Frederik Pohl):

Wall Around A Star (1975)?
Farthest Star (1983) ?

Brother to Demons, Brother to Gods, (1979)
Manseed, (1983)
Lifeburst, (1984)
Firechild, (1986)
Narabedla, Ltd., (1988) (sa Frederik Pohl)
Land's End, (1988) (sa Frederik Pohl)
Mazeway, (1990)
The Singers of Time, (1991) (sa Frederik Pohl)
Beachhead, (1992)
Demon Moon, (1994)
The Black Sun, (1997)
The Silicon Dagger, (1999)
Terraforming Earth, (2001)
The Stonehenge Gate, (2005)
Zbirke priča
The Trial of Terra (1962)
The Pandora Effect (1969)
People Machines (1971)
The Early Williamson (1975)
The Best of Jack Williamson (1978)
Brother to Demons, Brother to Gods (1979)
The Alien Intelligence (1980)
The Best of Jack Williamson (1984)
Into the Eighth Decade (1990)
The Prince of Space/The Girl From Mars (1998)
Seventy-Five: The Diamond Anniversary of a Science Fiction Pioneer (2004)
The Collected Stories of Jack Williamson:

The Metal Man and Others (1999)
Wolves of Darkness (1998)
Spider Island (2002)
Priče
The Metal Man (1928)
The Second Shell (1929)
The Alien Intelligence (1929)
The Girl from Mars (Excerpt) (1929) (sa Miles J. Breuer)
The Birth of a New Republic (1930) (sa Miles J. Breuer)
The Cosmic Express (1930)
Through the Purple Cloud (1931)
The Doom from Planet 4 (1931)
The Prince of Space (1931)
Twelve Hours to Live! (1931)
The Meteor Girl (1931)
The Lake of Light (1931)
The Moon Era (1932)
The Wand of Doom (1932)
The Pygmy Planet (1932)
The Lady of Light (1932)
Wolves of Darkness (1932)
The Electron Flame (1932)
Red Slag of Mars (1932) (sa Laurence Schwartzman)
Dead Star Station (1933)
In the Scarlet Star (1933)
Terror Out of Time (1933)
"We Ain't Beggars" (1933)
Salvage in Space (1933)
The Plutonian Terror (1933)
Born of the Sun (1934)
The Flame from Mars (1934)
Invaders of the Ice World (1934)
Wizard's Isle (1934)
The Galactic Circle (1935)
The Mark of the Monster (1937)
The Ice Entity (1937)
The Infinite Enemy (1938)
The Dead Spot (1938)
Star Bright (1939)
The Crucible of Power (1939)
Non-Stop to Mars (1939)
Passage to Saturn (1939)
The Fortress of Utopia (1939)
Hindsight (1940)
The Sun Maker (1940)
Darker Than You Think (1940)
As in the Beginning (1940)
The Girl in the Bottle (1940)
Backlash (1941)
Gateway to Paradise (1941)
Breakdown (1942)
Conscience, Ltd. (1943)
Opposites-React! (1943)
The Equalizer (1947)
Racketeers in the Sky (1950)
The Moon and Mr. Wick (1950)
The Man from Outside (1951)
The Peddler's Nose (1951)
The Greatest Invention (1951)
Man Down (1952)
The Cold Green Eye (1953)
The Happiest Creature (1953)
Operation: Gravity (1953)
Guinevere for Everybody (1954)
The Hitch-Hiker's Package (1954)
Beans (1958)
A Planet for Plundering (1962)
Nonstop to Mars (1962)
The Masked World (1963)
Nowhere Near (1967)
The Power of Blackness (1973)
Doomship (1973) (sa Frederik Pohl )
Counterkill (1975)
The Eternity Engine (1975)
The Machines That Ate Too Much (1976)
The Highest Dive (1976)
The Dark Destroyer (1976)
Stepson to Creation (1977)
Slaves to Chaos (1977)
Farside Station (1978)
Brother to Demons (1978)
Brother to Gods (1978)
Kinsman to Lizards (1978)
The Humanoid Universe (1980)
...All Ye Who Enter Here (1981)
Seedship (1982)
A Break for the Dinosaurs (1982)
The Mental Man (1988)
The Birds' Turn (1992)
Venus is Hell (1992)
The Litlins (1993)
The Ice Gods (1994)
Dark Star (1995)
The Death of a Star (1996)
The Firefly Tree (1997)
The Hole in the World (1997)
The Purchase of Earth (1998)
Terraforming Terra (1998)
Miss Million (1999)
Engines of Creation (1999)
The Ultimate Earth (2000)
Agents of the Moon (2000)
The Nth Step (2001)
Nitrogen Plus (2001)
Afterlife (2002)
The Planet of Youth (2002)
The Man From Somewhere (2003)
Dream of Earth (2004)
Previews of Hell (neobjavljena)
Ostalo
Autobiografija: Wonder's Child: My Life in Science Fiction., (1984)
Antologija: Medea: Harlan's World (1985) (sa Harlan Ellison)
Pjesme: A Question of Time (2000)
Omnibus: Tomorrow/The Iron God (1998) (sa E.C. Tubb)
Omnibus: The Ruler of Fate/Xandulu (1998)
Eseji
Notes from a Grand Master

Point of View (1988)
Style (1988)
Tone (1988)
Theme (1988)
Characters and Setting (1989)
Models and Extrapolation (1989)
Plot (1989)
Models and Extrapolations (1989)
Characters and Setting (1989)

Letter (Amazing, October 1927) (1927)
Letter (Amazing Stories, October 1928) (1928)
Letter (Amazing Stories, June 1929) (1929)
Letter (Astounding Stories of Super-Science, August 1930) (1930)
Letter (Wonder Stories, June 1931) (1931)
Letter (Amazing Stories, June 1932) (1932)
Vanguard of Science (1939)
Meet the Author (1939)
Unpredictable (1946)
Why I Selected Star Bright (1949)
Why I Selected Star Bright (1954)
Science Fiction in a Robot's Eye (1957)
The Logic of Fantasy (1964)
The Next Century of Science Fiction (1967)
Author's Introduction (1969)
Foreword to "The Star" (1970)
Afterword About Theme (1971)
Author's Introduction - with Hints for Design and Assembly (1971)
Plotting "Jamboree" (1973)
Introduction (The Early Williamson) (1975)
Designing a Dyson Sphere (1976)
Author's Afterword (1978)
Will Academe Kill Science Fiction? (1978)
Will Academe Kill Science Fiction? (1978)
Apocalypse (1978) (sa David Ketterer )
State of the Art: The Case Against the Critics (1980)
As I Remember... (1980)
The Arts: Books (Omni, Jul 1981) (1981)
Amazing Story (1982)
World of Weird 1931-1932 (1983)
World of Weird, 1931 - 1932 (1983)
Response to "The New Generation Gap" (1989)
Read This (The New York Review of Science Fiction, July 1993) (1993)
R for Character (1994)
Wonder Remembered (1994)
The Infinite Career (1997)
Introduction (The Prince of Space/The Girl From Mars) (1998)
Introduction (The Prince of Space/The Girl From Mars) (1998)
A Tribute to Poul Anderson (1999)
Guest Editorial: Survival, A Brief Reflection on a Life in Science Fiction (1999)
Recollections of Analog (2000)
What Wonder Was to Me (2000)
Edmond Hamilton: As I Knew Him (2000)
Ralph 124C41+: An Introduction (2000)
Curiosities: _Rocket to the Morgue_, by Anthony Boucher (1942) (2003)
Ne SF
H. G. Wells: Critic of Progress (1973) (see H G Wells)
Teaching Science Fiction: Education for Tomorrow (1980)
Wonder's Child: My Life in Science Fiction (1984)
---